Last week, I quietly celebrated 5 years of sobriety. 
When I first quit drinking, I was totally burnt from the road–depressed, uninspired and at a loss for where my life was headed. I wanted to keep in touch with folks but also needed a break. So instead of touring, I started writing essays. Short stories I sent to my mailing list once a month, usually about lessons I'd learned on tour. It turned out I liked writing, and people seemed to like my writing, too. Enough so, that I continued doing it – I joined a writing workshop and even started pitching my work to blogs. 
Last fall I went back to college to finish my undergrad and study writing in earnest. My first week of class, my professor gave us a challenge: Write about a thing we did that shocked or surprised us. I knew what that thing was for me–and the idea of writing publicly about it totally freaked me out. And so I did.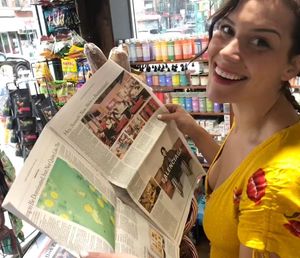 Today, that story was published in The New York Times Modern Love column. I couldn't be more proud or giddy. Read it here. 
Five years ago I couldn't have imagined this, but I didn't have to. I just needed to focus on doing the next right thing. The rest unfolded, a day at a time. I'm so grateful. Thank you all for cheering me on for every (literal and figurative) step along the way.